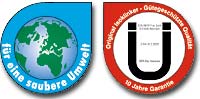 ISOKLINKER is successfully active throughout Europe with its product groups. The long life of the products and the use of high-quality materials are primary considerations in our corporate philosophy.
Continuously growing requirements for energy saving, reduction of pollutant emissions from flues and chimneys, and saving fossil resources are always considered in the further development of our products.
ISOKLINKER has its products continuously inspected by a state Materials Testing Institute for civil engineering.
The quality and functionality of our thermal insulation composite systems is now well-known in Germany and throughout many parts of Europe.